The GPF Committee
| Position | Name |
| --- | --- |
| Chairperson (& Trustee) | Andy Eavis |
| Secretary (& Trustee) | Phil Rowsell |
| Treasurer (& Trustee) | Paul Ibberson |
| Trustee | Nick Williams |
| Elected Member | Mark Wright |
| Elected Member | Robert Middleton |
| Elected Member | Fleur Loveridge |
| Elected Member | Vacant |
| BCA Treasurer | Howard Jones |
| BCRA Foreign Secretary | Mike Butcher |
The Ghar Parau Foundation is a 100% voluntary-based charity that manages an investment fund to provide grant aid to assist British caving expeditions to all parts of the world. The fund focuses on those expeditions which include an element of innovative exploration or scientific study. We are also particularly keen to encourage young cavers into expedition caving (as well as sport caving) to maintain an active caving community in years to come.

The GPF Committee is comprised of four trustees, together with two ordinary members and four rotating "Active Expedition Caving Members" (right). The GPF Committee meet twice yearly to discuss and allocate funds to expedition allocations. For expeditions visiting areas xxx MEF xxx. A record of the minutes and annual accounts can be downloaded by following the link below.

Active Expedition Caving Members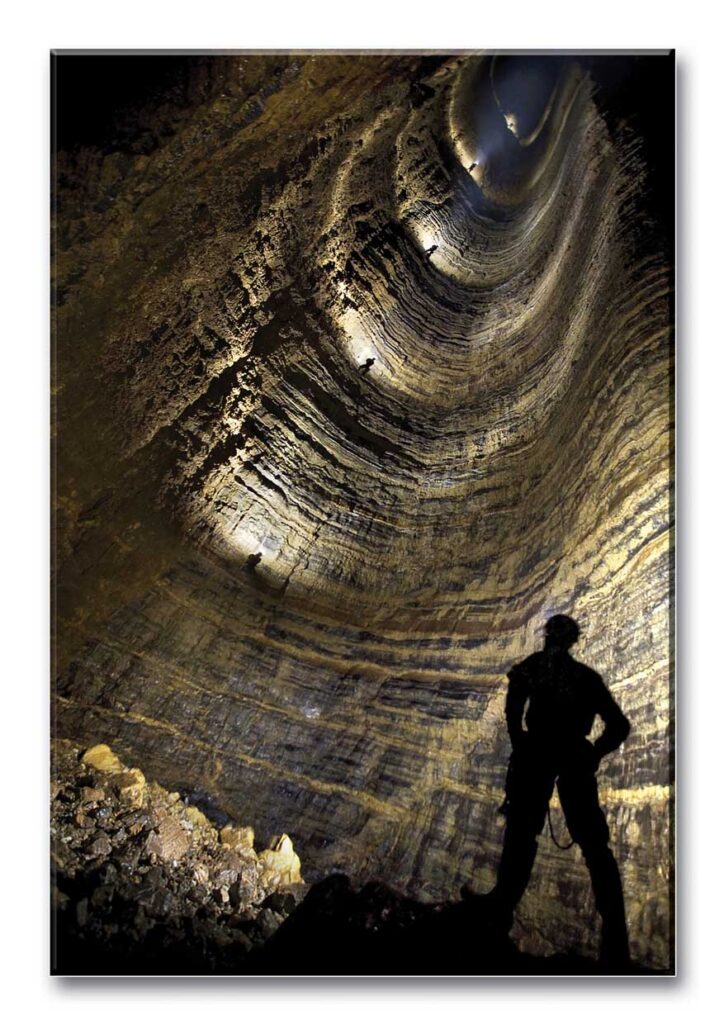 The Ghar Parau Foundation Management Committee has 4 Active Expedition Caving Members. These are people who are currently participate, and have significant experience, in Expedition Caving. Their purpose is to provide up-to-date views to the Committee about caving expeditions. They serve on the Committee for 4 years.
Responsibilities
The primary job of the Committee (bar the running of the charity) is to review the applications that are sent to GPF, comment on them in a professional manner and allocate the funds appropriately. Your experience as an expedition caver will be valuable in this process.
The GPF Management Committee meet twice a year Winter (around April time) and Summer (at Hidden Earth) to distribute funds according to a consensus of all the Committee members' review of each application. The application review process is done individually on-line prior to the meeting.
You will also be expected to attend these two Management Committee meetings, as it is still required to discuss all Committee members' comments, form a consensus and agree on a grant allocation for each expedition. There are also other administrative business that you may be asked to help with.
Criteria.
Caving Experience ?? Expedition Experience ??
How to become a GPF Active Expedition Caving Member
To ensure the GPF have a wide spectrum of people to chose from, we have changed the selection process such that people can now put their name forward for consideration. From this pool of people, a candidate will be selected each year to become the next AECM.
The GPF want keen people who will be actively involved, both with providing feedback on the expeditions but also being involved with the running and fundraising activities of the GPF. If you think you have the experience and are keen to participate, please submit an application for consideration, by clicking the button below.
As part of this application you will be asked to upload a caving "CV" detailing your caving expedition experiences, as well as nominating 2 referees that can vouch for these details. There is no submission deadline for AECM applications, and form details can be continuously updated after submission as your expedition experiences grow. The GPF Secretary will strive to contact all applicants in due course to discuss their potential for serving as an AECM on the GPF Committee.
Previous Active Expedition Caving Members
| Name | From | To |
| --- | --- | --- |
| Fleur Loveridge | 2019 | 2022 |
| Rob Middleton | 2018 | 2021 |
| Mark Wright | 2017 | 2020 |
| Rebecca Lawson | 2016 | 2019 |
| Rich Hudson | 2015 | 2018 |
| Jeff Wade | 2014 | 2017 |
| Hellie Adams | 2013 | 2016 |
| Ed Walters | 2012 | 2015 |
| Jarvist Frost | 2011 | 2014 |
| Phil Rowsell | 2010 | 2013 |
| Hillary Greaves | 2009 | 2012 |
| Ed Walters | 2008 | 2011 |
| Wookey | 2007 | 2010 |
| Paul Swire | 2006 | 2009 |
| Paul Mann | 2005 | 2008 |
| Phil Rowsell | 2004 | 2007 |